WP ACF-VC Bridge
Combine the powers of two giants
"Finally, the most demanded features became possible.
Truly a game changer."
Fully customizable & easy-to-use
A Must Have Plugin For Modern WordPress Website
Visual Composer changed the world by allowing creation of stunning page layouts easily. However, inability to use multiple Visual Composer builders per page or use it for category descriptions brings limitations to your message and expressiveness on a website. Along with that, many people felt the absent of data structures (especially developers) behind the templates.
Advanced Custom Fields changed the game in its turn one more time by allowing creating complex fields without a hassle. This is a Love of developers, because it allows to keep data clear and separate from the design along with having a better control over it. However, website owners experience a lack of visual representation of the information they put, which often leads to involving developers for making visual changes.
This all is in the past…
See what you can do now
Here is the big picture
Core Possibilities Overview
Use Visual Composer Anywhere
By having Visual Composer ACF field type, you can add editor to any post type, taxonomy term or options page.
Add Multiple Visual Composer Editors
You can add unlimited amount of VC editors on a same page.
Add ACF Field to Visual Composer
Easily pick any ACF field from current or another category or post page, ACF options page or set custom field in Backend and Frontend editors.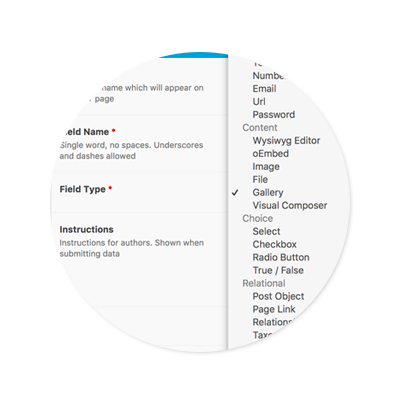 All ACF PRO Fields Supported
Add text, number, date, time, image, gallery, repeater and even flexible content.
Create Visual Composer Content Snippets
Common static or dynamic content can be created in a single place.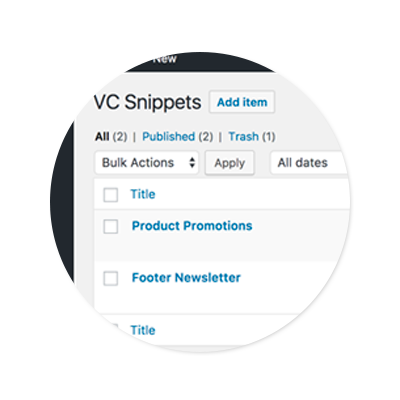 Reuse Content Snippets Anywhere
Embed same content snippets into many pages, posts, categories and widgets.
Separate Data From Design
Use VC Snippets to create master templates and ACF fields to manage data. When you need to change the layout, it's required to do it in a single place only, while changes will be applied throughout your website.
Use Templates
When you create a VC Snippet it automatically becomes available as a template in Visual Composer. Preview and add VC Snippets in Backend and Frontend editors.
Other use cases you wouldn't expect
You Can Do More
Full Screen
When you need more space for editing content in Visual Composer that has been added to unusual places with ACF field, you can switch editor to full screen mode.
Compact Mode
When you need to include multiple Visual Composer editors into Repeater or Flexible Content field there might be not enough space for editing content. For such cases, you can display only short description of an editor field with "Edit content" button.
So, What Are The Essential Assets Here For You?
Visual Composer Field Type
U

s

e

V

i

s

u

a

l

C

o

m

p

o

s

e

r

A

n

y

w

h

e

r

e

A

d

d

M

u

l

t

i

p

l

e

V

i

s

u

a

l

C

o

m

p

o

s

e

r

E

d

i

t

o

r

s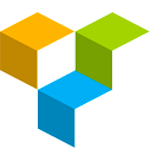 A

d

d

A

C

F

F

i

e

l

d

s

t

o

V

i

s

u

a

l

C

o

m

p

o

s

e

r

A

n

y

f

i

e

l

d

,

i

n

c

l

u

d

i

n

g

R

e

p

e

a

t

e

r

a

n

d

F

l

e

x

i

b

l

e

C

o

n

t

e

n

t

C

u

s

t

o

m

i

z

e

f

i

e

l

d

s

d

i

s

p

l

a

y

o

n

f

r

o

n

t

-

e

n

d C

r

e

a

t

e

r

e

u

s

a

b

l

e

c

o

n

t

e

n

t

I

n

s

e

r

t

i

n

t

o

V

i

s

u

a

l

C

o

m

p

o

s

e

r

A

d

d

t

o

S

i

d

e

b

a

r

s